The Founder Msgr. Joseph de ROZARIO (1873-1949)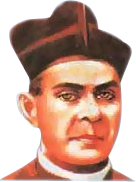 A major land mark in Tiruchirapalli is the campus of the Campion Anglo – Indian Higher Secondary School, while another landmark at Golden Rock is the Church of St.Joseph. These two monuments are among those given to the people by the philanthropy of a great self-effacing priest, Msgr.Joseph A. de Rozario.
He was born of a middle-class Anglo-Indian family in Quilandy, a small town near Calicut, on the 9th October,1873. His father was a Junior Judicial Officer of the State of Travancore, who rose to be the Municipal Chairman of Calicut. Joseph was the eighth member of a family of 11 children.
From early years, Joseph showed traits of being always helpful, rather retiring and with a high sense of responsibility. He gained the confidence of his father, who later made him the sole executor of his will. He had his early education in Cannanore and Calicut, and then went on to Presidency College, Madras, from where he obtained his B.A.Degree.
Entering the Madras Government as a clerk, he gradually rose to become a Thasildar. Meanwhile, his father died in 1898, when Joseph was twenty-five. As he was keen on becoming a lawyer, he went to England in 1907, joined the University of Edinburgh from where he obtained the Degree of Bachelor of Civil law (BCL), and was called to the Bar in London, After that, in 1912, he returned to India.
He, once again, joined the Civil Service of the Government of Madras and became, in due course, the Deputy Collector of Trichinopoly and later, of Cochin. He continued to rise till he became the District and Sessions Judge at Bangalore. Over the years, he had given serious thought to marriage. On one occasion, when he was in England, he got engaged to a girl. Unfortunately, one month before the marriage, she fell ill and died. On another occasion, the girl in question was not of his faith and refused to become a Catholic. On the third occasion, the mother of the girl refused permission for marriage. Being of an incorruptible nature, he often came into conflict with dishonesty. As a Judge, he had to face distressing scenes of misconduct. His sensitive nature revolted against what he saw, and he began to take disgust to his career.
He had always been devoted towards his religion. This devotion grew with the years. He now began to feel the call to the Divine Vocation of Priesthood. The revulsion that he experienced in the Law Courts and the sad outcome of his intention to marry had the effect of turning him away from the world. In 1922 when Joseph was 49, his mother died .He had looked after her for 24 years from the time of the death of his father. This sad event severed the links that held him to the world. Thoughts of joining the priesthood now began to come upon him more forcefully. There were, however hindrances that lay in his way. He did not know Latin and he felt that he was too old to start studying a new language.
To overcome these difficulties, he left India,went first to London, and then joined Beda College in Rome, which is a seminary meant for late vocations and for those who had difficulties with Latin. He joined the College in 1922, and at the end of four years, namely, on August 8th, 1926; he was ordained a priest in Rome. He continued to stay on in Rome for two more years to do a course in Canon Law. After that, he returned to India in November 1928, and took up his appointment as Parish Priest of Golden Rock.
Even from the start, he had to face difficulties. Golden Rock had no Catholic Church. He, therefore, had to construct one. There were obstacles in the way but he worked with determination, overcame the obstacles and built this Church. It was opened on March 19, 1931, the feast of St.Joseph,to whom the Church was dedicated.
The next major plan on the part of Fr.de Rozario was to set up a High School for Anglo-Indian boys. For this purpose, he got himself transferred to the Cathedral of Tiruchirapalli as Chaplain of the Anglo-Indian Community. There was, already, in Tiruchirapalli, a Middle School for Anglo-Indian boys. Fr.de Rozario acquired a four acre piece of land on which was a bungalow. This was to be his school. On the 5th October, 1934, the existing Middle school was closed down and its students and teachers were moved to the newly-acquired building. Thus, his school Campion was founded. He secured the services of Fr. V.G.Lambert, s.j., as the Headmaster. The Headmaster gave the school a patron, namely, Blessed Edmund Campion, an English Jesuit who was martyred at the time of Queen Elizabeth I. It was recognized as a High School on June 19, 1935.
On the 2nd December 1936, Fr.de Rozario, then aged 63,quietly retired and went to Bangalore where he was appointed Spiritual Director of St. Mary's Minor Seminary. He lived there till his death on June 30th 1949, at the age of 76. Though away from the school he founded, his heart was with Campion till the end of his days, and he always kept a loving and fatherly watch over this school, which he continued to assist, whenever in need.